Nakladatelství
PENGUIN BOOK LTD.
vyhovuje 10 titulů.
DRACULA
The acclaimed Couture Classics with cover designs by Ruben Toledo have become collector's items in the worlds of literature, fashion, design, and popular culture. Now, Toledo's signature style graces the covers of three new Deluxe Editions of gothic literature greats - Jane Eyre, Dracula, and The Picture of Dorian Gray - capturing the haunting beauty, sensual horror, and decadence of these iconic tales. Perfect additions to the first set of Couture Classics: Wuthering Heights, Pride and Prejudice, and The Scarlet Letter. For more than seventy years, Penguin has been the leading publisher of classic literature in the English-speaking world. With more than 1,700 titles, Penguin Classics represents a global bookshelf of the best works throughout history and across genres and disciplines. Readers trust the series to provide authoritative texts enhanced by introductions and notes by distinguished scholars and contemporary authors, as well as up-to-date translations by award-winning translators.
EVE OF MAN
***PRE-ORDER EVE OF MAN, THE FIRST BOOK IN A BRAND-NEW TRILOGY, JOINTLY WRITTEN BY BESTSELLING AUTHORS GIOVANNA & TOM FLETCHER*** AGAINST ALL ODDS, SHE SURVIVED. THE FIRST GIRL BORN IN FIFTY YEARS. THEY CALLED HER EVE.

How do you choose between love and the future of the human race? All her life Eve has been kept away from the opposite sex. Kept from the truth of her past. But at sixteen it's time for Eve to face her destiny. Three potential males have been selected for her. The future of humanity is in her hands. She's always accepted her fate. Until she meets Bram. Eve wants control over her life. She wants freedom. But how do you choose between love and the future of the human race? EVE OF MAN is the first in an explosive new trilogy by bestselling authors Giovanna & Tom Fletcher.
GIRL ONLINE. ON TOUR PB
The sequel to the number-one bestseller Girl Online. Penny's bags are packed . . . When Noah invites Penny on his European music tour, she can't wait to spend time with her rock-god-tastic boyfriend. But, between Noah's jam-packed schedule, less-than-welcoming bandmates and threatening messages from jealous fans, Penny wonders whether she's really cut out for life on tour. She can't help but miss her family, her best friend Elliot . . . and her blog, Girl Online. Can Penny learn to balance life and love on the road, or will she lose everything in pursuit of the perfect summer?
LITTLE WOMEN
-
ME BEFORE YOU, JOJO MOYES
Lou Clark knows lots of things. She knows how many footsteps there are between the bus stop and home. She knows she likes working in The Buttered Bun tea shop and she knows she might not love her boyfriend Patrick.
What Lou doesn't know is she's about to lose her job or that knowing what's coming is what keeps her sane.
Will Traynor knows his motorcycle accident took away his desire to live. He knows everything feels very small and rather joyless now and he knows exactly how he's going to put a stop to that.
METAMORPHOSIS AND OTHERN STORIES
Kafka's masterpiece of unease and black humour, Metamorphosis, the story of an ordinary man transformed into an insect, is brought together in this collection with the rest of his works that he thought worthy of publication. This collection of new translations brings together the small proportion of Kafka's works that he himself thought worthy of publication. It includes Metamorphosis, his most famous work, an exploration of horrific transformation and alienation; Meditation, a collection of his earlier studies; The Judgement, written in a single night of frenzied creativity; The Stoker, the first chapter of a novel set in America and a fascinating occasional piece, and The Aeroplanes at Brescia, Kafka's eyewitness account of an air display in 1909. Together, these stories reveal the breadth of Kafka's literary vision and the extraordinary imaginative depth of his thought.
PARIS FOR ONE
A collection of 11 unmissable short stories from the number 1 internationally bestselling author of Me Before You and After You Nell is twenty-six and has never been to Paris. She's never even been on a romantic weekend away-to anywhere-before. Travelling abroad isn't really her thing. But when Nell's boyfriend fails to show up, she has the chance to prove to everyone-including herself- that she can be independent and intrepid. Alone in Paris, Nell finds a version of herself she never knew existed . . . In the ten other stories, Jojo Moyes introduces us to a cast of strong, relatable women in the midst of their everyday lives. In Honeymoon in Paris, featuring characters from her bestselling novel, The Girl You Left Behind, Liv and Sophie - though decades apart - both find that marriage is only the beginning of their love stories. In Crocodile Shoes, a businesswoman's blossoming confidence emerges from a fateful changing-room mix-up. And in both Love in the Afternoon and A Bird in the Hand, two couples dance around the trickiness of long-time marriage. In this irresistible collection, readers will be whisked from elegant perfume shops to taxis to five-star hotel rooms and more. Jojo Moyes always makes the ordinary moments in life extraordinary. Funny, charming, and unmissable, Paris for One and Other Stories is Moyes at her best.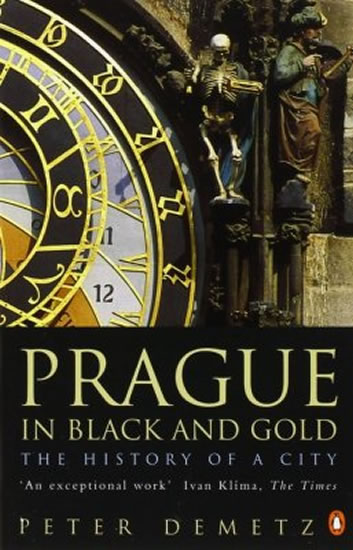 PRAGUE IN BLACK AND GOLD
From the Velvet Revolution to the disturbing world of Franz Kafka, from the devestation of the Thirty Years War to the musical elegance of Mozart and Dvorak, Prague is steeped in a wealth of history and culture. PRAGUE IN BLACK AND GOLD is a first class history of this unique city, allowing us to unravel layer upon layer of startlingly symbolic sites and buidings to reveal the real Prague. "PRAGUE IN BLACK AND GOLD is an exceptional work - and exceptionally reliable ... I am sure that thiswill be an important and exciting guide for all who wish to learn more about the famous people and important events in the history of the Czech lands and their capital" Ivan Klima, The Times
THE NIGHT MANAGER
-
THE RED PONY
-
Stránka: 1 z 2