Autorovi
HAWKING STEPHEN
vyhovuje 3 titulů.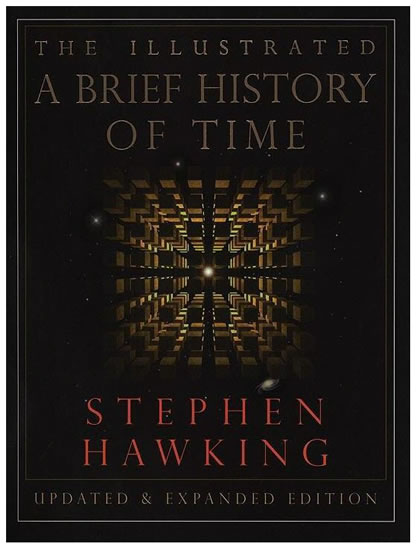 A BRIEF HISTORY OF TIME
This is Stephen Hawking's updated, expanded and illustrated edition of his celebrated work which includes the most recent developments in the field, many of which were forecast by him. At the same time, he explains his complex theories through a fresh visual dimension. Over one hunded and fifty stunning colour illustrations have been specially commissioned for this purpose to help the reader understand what have become popular mythic images of our century, but which nonetheless remain difficult, abstract ideas to grasp. It includes a new introduction written specially for this edition.
BRIEF ANSWERS TO THE BIG QUESTIONS
The world-famous cosmologist and #1 bestselling author of A Brief History of Time leaves us with his final thoughts on the universe's biggest questions in this brilliant posthumous work. How did the universe begin? Will humanity survive on Earth? Is there intelligent life beyond our solar system? Could artificial intelligence ever outsmart us? Throughout his extraordinary career, Stephen Hawking expanded our understanding of the universe and unravelled some of its greatest mysteries. But even as his theoretical work on black holes, imaginary time and multiple histories took his mind to the furthest reaches of space, Hawking always believed that science could also be used to fix the problems on our planet. And now, as we face potentially catastrophic changes here on Earth - from climate change to dwindling natural resources to the threat of artificial super-intelligence - Stephen Hawking turns his attention to the most urgent issues for humankind. Wide-ranging, intellectually stimulating, passionately argued, and infused with his characteristic humour, BRIEF ANSWERS TO THE BIG QUESTIONS, the final book from one of the greatest minds in history, is a personal view on the challenges we face as a human race, and where we, as a planet, are heading next. A percentage of all royalties will go to charity.
STRUČNÁ HISTORIE MÉHO ŽIVOTA
Proslulý fyzik Stephen Hawking je autorem řady publikací, v nichž laickému čtenáři zprostředkoval řadu mimořádně náročných problémů moderní fyziky. Patrně nejslavnější z nich je Stručná historie času. Ve své nejnovější knize tentokrát nerekapituluje vývoj vesmíru, ale svůj vlastní život – odtud i název Stručná historie mého života. S humorem čtenáře seznamuje se svým dětstvím, studiem, osobním a rodinným životem, s průběhem své nemoci i s vědeckou kariérou. Jeho vyprávění doprovází množství raritních fotografií. Kniha dokládá nezlomnou sílu ducha této výjimečné osobnosti.

Stephen Hawking (1942) je patrně nejznámějším vědcem současnosti, nejen ovšem díky převratným idejím, které znamenaly posun ve vývoji fyziky, ale i díky své fascinující vůli, se kterou překonává tělesný handicap a se kterou dokázal napsat řadu významným vědeckých prací i popularizačních knih. Jeho Stručná historie času zůstává vzorem pro všechny, kdo chtějí zprostředkovat náročné a neprůhledné vědecké teorie laickému čtenáři.
Stránka: 1 z 1